DERALE PERFORMANCE is a proud sponsor of Contingency Connection's Grassroots RACER REWARDS program posting over $60,000 in weekly contingency awards for grassroots weekend warrior racers at member tracks and series nationwide. DERALE is offering awards to approximately 18,000 racers per week, at 42 tracks and series, hosting over 1500 events. Contingency Connection racing includes Circle, Dirt, Paved, Drag, Tractor Pull, Off-road, Diesel, Import, and Motorcycle events. 
For more info about Contingency Connection: www.contingencyconnection.com
For track & series news, schedules, websites, and social media links: https://www.contingencyconnection.com/copy-of-tracks-series
2023 Contingency Connection Racer Rewards Tracks & Series
35 Raceway Park-Frankfort, OH (Dayton, Columbus, Cincinnati)
Alaska Raceway Park- Palmer, AK (Anchorage)
Bunker Hill Dragstrip- Bunker Hill, IN (Indianapolis)
Carolina Mini Stock Challenge- NC, SC
Cordova Dragway-Cordova, IL Quad Cities IA-IL (Clinton, Davenport)
Edgewater Sports Park-Cincinnati, OH
El Paso County Raceway- Calhan, CO (Colorado Springs, Denver)
Empire Dragway- Leicester, NY (Buffalo, Rochester, Syracuse)
Grand Bend Motorplex-Grand Bend, Ontario, Canada (St. Marys)
Grays Harbor Raceway-Elma, WA (Olympia, Tacoma, Seattle)
Great Lakes Pro-AM Series at Lake Erie Speedway- Erie, PA (Cleveland, Buffalo)
Greer Dragway–Greer SC (Spartanburg, Greenville SC)
Jennerstown Speedway Complex- Jennerstown, PA (Pittsburgh)
Kankakee County Speedway- Kankakee, IL (Chicago, IL)
Keystone Raceway Park- New Alexandria PA (Pittsburgh)
Kingsport Speedway-Kingsport, TN (Bristol, Johnson City, Knoxville)
Laird International Raceway- Sault Marie (Echo Bay, Ontario, Canada)
Lincoln Speedway-Lincoln, IL (Springfield, Bloomington, Peoria)
Lost Creek Raceway-Anaconda, MT (Butte, Helena)
Macon Speedway-Macon, IL (Decatur, Springfield Champaign)
Maryland International Raceway-Budds Creek, MD (Washington, Baltimore)
Mid Atlantic 90 Association-Vineland, NJ (Philadelphia PA, Baltimore MD, Trenton NJ)
MID-AM Racing Series- (WI, IL, IA)
Midwest Wingless Racing Association- MO, KS
Mountain View Raceway- Spring City, TN (Knoxville, Chattanooga)
Nevada Speedway-Lamar, MO (Joplin, Springfield, Kansas City)
North Florida Motorplex- Fountain, FL (Tallahassee, Panama City)
New Smyrna Speedway-New Smyrna, FL (Daytona, Orlando, Jacksonville)
Phillips County Raceway-Holyoke, CO (Denver, Boulder, Cheyenne)
Richmond Raceway KY-Richmond, KY (Lexington)
Sloan Onondaga Dragway-Onondaga, MI (Detroit, Ann Arbor, Lansing)
South Texas Race Ranch- Corpus Christi, TX (San Antonio)
Southern California Speedboat Club (AZ, CA, ID)
Thomas Dragway- St. Thomas, Ontario Canada (London)
Stateline Speedway-Post Falls, ID (Spokane, WA)
Steadfast for Veterans Drag Racing Series- FL, IN, WI, MI, NC
Sturgis Dragway-Sturgis, SD
Sumerduck Dragway-Sumerduck, VA (Fredericksburg, Washington, Richmond)
Sycamore Speedway- Maple Park, IL (Chicago)

Texana Raceway Park- Edna, TX

(Houston, San Antonio)
US 13 Dragway- Delmar, DE (Washington, Baltimore, Dover)
Valley Speedway-Grain Valley, MO (Kansas City)
Volunteer Speedway- Bulls Gap, TN (Knoxville, Kingsport, Bristol)
Wayne County Speedway- Orville, OH (Cleveland, Columbus, Akron, Canton)
Willamette Speedway- Lebanon, OR (Portland, Salem)
World Wide Technology Raceway- Madison, IL (St. Louis, MO)
---

Hot August Nights 2023 Schedule

Hot August Nights will be held Friday July 28th - Satday August 5, 2023.  Derale Performance will be an exhibitor.
Every August, the streets of Virginia City, Reno and Sparks vibrate with the sound of muffled rumbles of rebuilt engines, rays of sunlight glinting off the polished chrome and heavy scents of Dapper Dan hair pomade fill the air. Droves of spectators line the sidewalks for a glimpse into the past, a time when a driver's license and a hot car were all anyone needed or wanted on a Saturday night. Join us for a trip down memory lane or a new adventure. Whichever way you look at it, this nostalgic event has it all.
---


SEMA October 31st - 3rd 2023 Schedule
The SEMA Show takes place October 31 - November 3, 2023 at the Las Vegas Convention Center located at 3150 Paradise Road, Las Vegas, NV 89109. Derale Performance will be an exhibitor in the main hall down the stairs from the Ford Booth.
There is no other trade show where you can see thousands of product innovations from 1,300 new and iconic exhibitors, experience the latest product and custom vehicle trends, get access to 70+ free professional skill-enhancing education sessions and make career-changing connections with peers, leaders, and celebrities at the industry's most anticipated in-person networking event.
---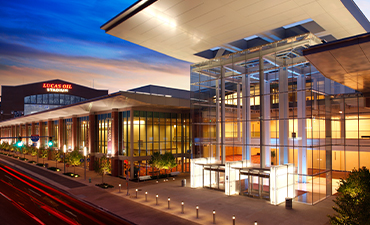 PRI Show December 7 - 9, 2023 Schedule
Derale Performance will be an exhibitor at this year's PRI Show in December.
The world's largest gathering of motorsports professionals, the PRI Trade Show brings together 1,100 exhibiting companies with 70,000 attendees from all 50 states and 70 countries. Every December, the three-day Show happens in the heart of the racing industry in Indianapolis. Get the information you need to do business at the Show.
---
 

Derale is happy to be a Monster Jam Sponsor. Most of the Monster Trucks uses one of Derale's Hyper-Cool Remote Fluid Coolers to cool the engine.

KANSAS CITY, MO

GEHA FIELD AT ARROWHEAD STADIUM

May 20, 2023

STADIUM CHAMPIONSHIP BLUE

 

CLEVELAND, OH

CLEVELAND BROWNS STADIUM

Jun 03, 2023

STADIUM CHAMPIONSHIP RED

 

SALINAS, CA

SALINAS SPORTS COMPLEX

Jun 18, 2023

STADIUM CHAMPIONSHIP BLUE

 

NASHVILLE, TN

NISSAN STADIUM

Jul 01, 2023

 

NEW ORLEANS, LA

CAESARS SUPERDOME

Jul 08, 2023

 

BAKERSFIELD, CA

MECHANICS BANK ARENA

Jul 15 - Jul 16, 2023

 

EDMONTON, AB

ROGERS PLACE

Jul 22 - Jul 23, 2023

 

CHARLOTTE, NC

SPECTRUM CENTER

Jul 22 - Jul 23, 2023

 

FRESNO, CA

SAVE MART CENTER

Jul 28 - Jul 30, 2023

 

ALLENTOWN, PA

PPL CENTER

Jul 29 - Jul 30, 2023

 

SAVANNAH, GA

ENMARKET ARENA

Aug 04 - Aug 06, 2023

 

LAS VEGAS, NV

THOMAS & MACK CENTER

Aug 04 - Aug 06, 2023

 

SACRAMENTO, CA

GOLDEN 1 CENTER

Aug 11 - Aug 13, 2023

 

SUNRISE, FL

FLA LIVE ARENA

Aug 12 - Aug 13, 2023

 

TAMPA, FL

AMALIE ARENA

Aug 19, 2023

 

CALGARY, AB

GMC STADIUM

Aug 19 - Aug 20, 2023

 

LOS ANGELES, CA

CRYPTO.COM ARENA

Aug 25 - Aug 27, 2023

 

SAN JOSE, CA

SAP CENTER

Sep 01 - Sep 03, 2023

 

DULUTH, GA

GAS SOUTH ARENA

Sep 09 - Sep 10, 2023

 

ROSEMONT, IL

ALLSTATE ARENA

Sep 15 - Sep 17, 2023

 

HIDALGO, TX

PAYNE ARENA

Sep 15 - Sep 17, 2023

 

HAMPTON, VA

HAMPTON COLISEUM

Sep 22 - Sep 24, 2023

 

VANCOUVER, BC

PACIFIC COLISEUM

Oct 06 - Oct 08, 2023

 

ARLINGTON, TX

AT&T STADIUM

Oct 14, 2023

 

HOUSTON, TX

NRG STADIUM

Oct 21, 2023

 

NAMPA, ID

FORD IDAHO CENTER

Oct 27 - Oct 29, 2023

 

BRIDGEPORT, CT

TOTAL MORTGAGE ARENA

Oct 27 - Oct 29, 2023

 

SPOKANE, WA

SPOKANE ARENA

Nov 03 - Nov 05, 2023

 

DAYTON, OH

NUTTER CENTER

Nov 04 - Nov 05, 2023

 

ANAHEIM, CA

ANGEL STADIUM OF ANAHEIM

Nov 11, 2023

 

DRESDEN, GERMANY

RUDOLF-HARBIG-STADION

Jul 01 - Jul 02, 2023

 

LONDON, UNITED KINGDOM

LONDON STADIUM

Jul 15, 2023

 

FRANKFURT, GERMANY

DEUTSCHE BANK PARK

Jul 22, 2023

 

ARNHEM, NETHERLANDS

GELREDOME

May 11 - May 12, 2024