At Sacto Nostalgia Reunion
Sacramento Raceway Park's Nostalgia Reunion hosted the NHRA Hot Rod Heritage Series for groups 1 and 2 July 12-13, a race that saw a couple point leaders relinquish leads, others make dramatic gains, and some extend their lead over closest rivals.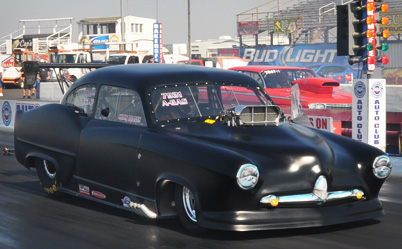 With his win in A/G, Chris Beanes, catapulted all the way into third place, only one point behind second place Terry Newton; and, this was after Chris had not even been shown in the top 10 prior to the event. Also climbing up the ladder in significant fashion was Dr. Kin Bates in A/FD. As a result of his dominating performance at the Nostalgia Reunion, where he not only won the event, but qualified number one with top speed and low E.T., Bates jumped from seventh into a tie for second (with Jerry Kumre Jr.), and only two points adrift of leader Bill Wayne. For his part, Wayne qualified No. 2, but fouled out against Mike Pawluk in E1.

In 7.0 Eliminator, it was another showdown between number one Mike Peck and number two Bobby Cottrell. Bobby looked sharp early on, qualifying number one with a near perfect 7.005, but Peck was flawless in eliminations, carding a 7.009 against Scott Christlieb in E1 and a 7.009 against Cottrell in the final round. Also finding similar success was John Saliani in B/G. By winning the event, the points leader extended his lead to 53 points over his closest pursuer, Kevin Riley.

Nostalgia Eliminator 1 and Nostalgia Eliminator 2 also saw a juggling of the leaders. In NE 1, Mark Whynaught leap-frogged over Steve Schoenfeld from third into first, and Jason Francev followed suit, maneuvering past Rick Nordness. Whynaught grabbed his Wally in dramatic fashion, surviving a heart-stopping double breakout final round against Kevin Sarginson (7.585-7.573). In NE 2, leader Nordness, fouled out in E1, leaving the door open for both Francev and then number three Jay Huckleberry. Those two met in the very next round, which saw a jittery Huckleberry both foul, and breakout, against Jason. Francev was gifted another victory in the final round courtesy of Dick Krieger, who broke out at 7.590.

Other Wally recipients were Don Enriquez in Junior Fuel, Ed De Staute in Nostalgia Eliminator 3, Dave DuBose in C/G, Chris Borges in D/G, and Tony Trimp in Hot Rod. Enriquez upset Wayne Ramay, who looked invincible prior to the final round with his flurry of 7.0s, easily the class of the field.